Bedtime Cleanse Tea
Cleanse that hot bod of yours from the toxic and gross stuff... to make room for the good for you stuff.
Bye bye toxic stuff. Bedtime Cleanse Tea cleanses your liver and colon from toxins, helping you maintain a proper body weight.
Bye bye gross stuff. Bedtime Cleanse Tea removes fecal deposits, constipation, diarrhea, gas and hyperacidity, heartburn, hemorrhoids and even parasites.
It also contributes to better absorption of the good stuff like nutrients and fiber, regenerating your intestinal and urinary tract while boosting your immune system. Nighty night.*
learn more
Ready to ship worldwide
Delivery time: 2-5 business days
For some must watch,
while some must sleep.
Morning Runner will do the job!
Bedtime Cleanse
Bedtime Cleanse Tea supports removal of toxic substances from body, improving the functioning of stomach, intestines and kidneys. It facilitates defecation, regenerates urinary, intestinal and immune systems. You'll thank us later.
bedtime cleanse ingredients
Senna leaf
The plant originates mainly from Somalia and the Arabian Peninsula, but our particular ingredient is cultivated in beautiful India. The plant exhibits important laxative properties. Tea from the leaves and fruit of senna soothes the common ailments of digestion and is intended for short-term use in constipation. Senna is used primarily for constipation and intestinal cleansing before diagnostic or surgical procedures.
Buckthorn bark
Its most valuable ingredient are antra compounds which stimulate intestinal peristalsis and have a light laxative effect. The bark also has bile properties and is used in liver and gall bladder diseases. Acting as a laxative, it helps with indigestion and disorders of bile drainage, by regulating metabolism. So inconspicuous and yet works so well!
Bearberry leaf
The plant has properties: anti-inflammatory, diuretic, saluric, increasing the excretion of chloride and sodium ions. And look at it go! It even works on antibiotic-resistant bacteria that cause urinary tract infections.
Rose hip
Those little shits have 30 times more vitamin C! Also they contain other important vitamins: A, B1, B2, E, K, and folic acid, carotenoids, flavonoids, organic acids, tannins, pectins. In other words it's good for you. Rosehip fruit is used for hypertension, heart disease, liver as well as a vitamin. Acting intensely and anti-inflammatory, it helps with intestinal congestion. Pretty, pretty, pretty healthy.
Orange peel
Orange peel improves digestion and accelerates metabolism. It helps with bloating, heartburn, vomiting. It improves appetite and relieves nausea. It also acts as an antiinflammatory and antibacterial. It allows for alleviation of gases and regulates intestinal peristalsis. Recommended for people struggling with obesity and high cholesterol. Also cures hiccups.
Peppermint leaf
Smells great IRL. It is also used in ailments such as upper gastrointestinal tract and biliary tract cramps. Peppermint increases the amount of gastric juice, making it easier to digest and assimilate food. It can be used for stomach indigestion and for irritable bowel syndrome. Works to correct peristaltic movements of the intestines, and allows for proper movement of intestinal contents and the departure of gases. It sounds worse than it feels.
Chamomile flower
It smells great, it tastes great and, on the plus side, it is a real healer. I think we got a winner here. Research shows that this renowned herbal has amazing health benefits like anti flammatory and anti bacterial qualities. It works spasmodically on the smooth muscles of the intestines and bile ducts. Chamomile infusion has an anti-inflammatory effect on the gastric mucosa, it improves the flow of bile and it works positively on the gastrointestinal tract and liver. Chamomile tea is recommended as an adjunct in therapy of hyperacidity and excessive gastric juice secretion. Furthermore, it is known to bring relief in the case of peptic ulcer.
Marshmallow root
Forget S'mores. Marshmallow herb is recommended for overweight people and those with elevated cholesterol and lipids in the blood. The mucus contained in it provides a sensation of fullness, thereby reducing the feeling of hunger. What S''mores?
Benefits
We knew from the beginning that the natural ingredients in our tea would bring out the very best in you.
We are so proud of ourselves! It's time to party now. Enjoy!
Detox

Regulation

Regeneration
How to prepare
Brew one teabag every day before bedtime
Use a 8.5 to 10 oz cup or mug (250 - 300 ml)
Boil water. Wait 5 seconds and pour it into the cup
For the first week, let the tea brew for 2 to 3 minutes
After that, let it brew for 5 to 8 minutes
Longer brewing time means a stronger effect!
No, you don't use the same teabag again!
Ice? Lemon? No problem! Make it how you like it!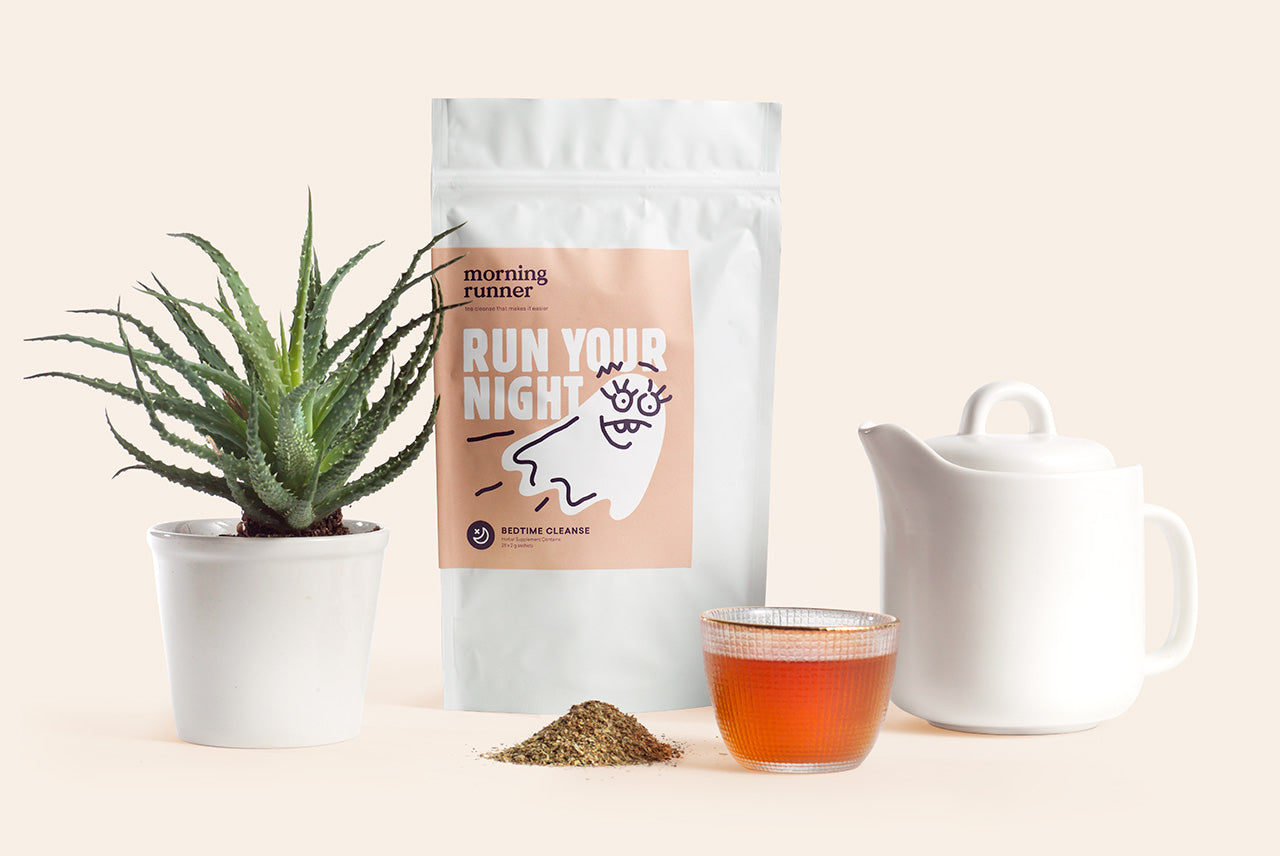 Some good tips
Traditional Way
Classy af
Icetea on a hot day
Ice Ice Baby
With lemon
Heavenly lady
With cinnamon
Exotic
Share this shit!
Step aside coffee! This is a job for Morning Runner!
Share affair!
Frequently Asked Questions
I'm pregnant and/or breastfeeding. Is it okay to use Morning Runner products?
Our ingredients are safe for consumption but if you have a bun in the oven…. We are sorry but cleansing your body might have a bad effect on your baby's development. Forget about cleaning for now and come back when you can have a proper drink. ;)
How long does shipping take?
We process and ship all orders on weekdays within 24 hours. From there it comes down to where you live. Usually it takes up to 72 hours. You can check the delivery status on your order using the DHL tracking number we emailed you.
Oh no... I supplied the wrong address. Can I fix this?
No worries. Our partner, DHL, allows us to change a delivery address up until the day of delivery.
Reply to your order confirmation email and change the subject line to 'ADDRESS CHANGE: #' followed by your order number, i.e. 'ADDRESS CHANGE: #yourordernumber'. Write your correct address in the email and send.
see all FAQs