Morning Metabolism + Bedtime Cleanse Tea
Recommended by physicians, body detox is an element of our life and a good start to get fit. Morning Runner tea is a combination of natural ingredients that makes it all easier. Morning Metabolism Tea supports weight loss process and Bedtime Cleanse Tea removes toxic substances from your body. You're welcome.
*
learn more
Ready to ship worldwide
Delivery time: 2-5 business days
CLEANSE YOUR BODY
AND SPEED UP YOUR METABOLISM
morning
metabolism
Morning Metabolism Tea supports weight loss process. The extract of Garcinia cambogia has a beneficial effect on body's physiological functions associated with digestion processes and metabolism. Reduce the feeling of hunger doesn't hurt either.
bedtime
cleanse
Bedtime Cleanse Tea supports removal of toxic substances from body, improving the functioning of stomach, intestines and kidneys. It facilitates defecation, regenerates urinary, intestinal and immune systems. You'll thank us later.
Hibiscus flower
It's not just a flower. It belongs to the herbaceous plants of the locust family that grow mainly in Asia and Africa. Why should you care? Because hibiscus lowers blood pressure and lower cholesterol and strengthens the immune system, thanks to its vitamin C.
Pu-erh tea
Grown in China for over 1700 years, it supports liver function, effectively battles weight gain, lowers cholesterol, stimulates digestive processes, prevents the formation of aggressive oxygen-free radicals. It strengthens the body, reduces fat absorption in the intestines, stimulates microcirculation, improves memory and has a calming effect. Most importantly it also alleviates the effects of alcohol consumption.
Apple peels
As trashy as it seems it used to be a delicacy of ancientRomans and Greeks. Rich in vitamin fruit, it was used in natural medicine against children diarrhea and adults indigestion and peptic ulcers. Thanks to the fiber content, they regulate the work of the intestines, protecting against constipation and other diseases, including colorectal cancer. So, yeah…
Rose hip
Those little shits have 30 times more vitamin C! Also they contain other important vitamins: A, B1, B2, E, K, and folic acid, carotenoids, flavonoids, organic acids, tannins, pectins. In other words it's good for you. Rosehip fruit is used for hypertension, heart disease, liver as well as a vitamin. Acting intensely and anti-inflammatory, it helps with intestinal congestion. Pretty, pretty, pretty healthy.
Elderberry fruit
Aka little balls. It has diaphoretic and diuretic properties, acts slightly as a laxative and a painkiller. It's a blood cleanser perfect for a thorough detox, cleaning your body from armful organisms and toxins in rheumatic diseases. Black elderberries are also used in gastric and intestinal inflammatory conditions and as an analgesic for neuralgia and sciatica pain. It's a thing, look it up.
Dry extract of garcinia cambogia
Natural medicine classic. It's claimed to treatproperties for rheumatism, gastrointestinal diseases and even myocardial infarction. It helps to remove LDL cholesterol from the body, a truly undesirable guest! Garcinia cambogia inhibits the toxic effects of drug intake and is beneficial for the nervous system. Fruit extract is a safe slimming aid because it does not interact with medications. No side effects either.
Benefits
We knew from the beginning that the natural ingredients in our tea would bring out the very best in you.
We are so proud of ourselves!
It's time to party now. Enjoy!
Metabolism
booster

Stimulation

Energy

Detox

Regulation

Regeneration
How to prepare
*work both teas
Brew one teabag every day in the morning (Morning Metabolism)
Brew one teabag every day before bedtime (Bedtime Cleanse)
Use a 8.5 to 10 oz cup or mug (250 - 300 ml)
Boil water. Wait 15 seconds and pour it into the cup
For the first week, let the tea brew for 2 to 3 minutes
After that, let it brew for 5 to 8 minutes
Longer brewing time means a stronger effect!
No, you don't use the same teabag again!
Ice? Lemon? No problem! Make it how you like it!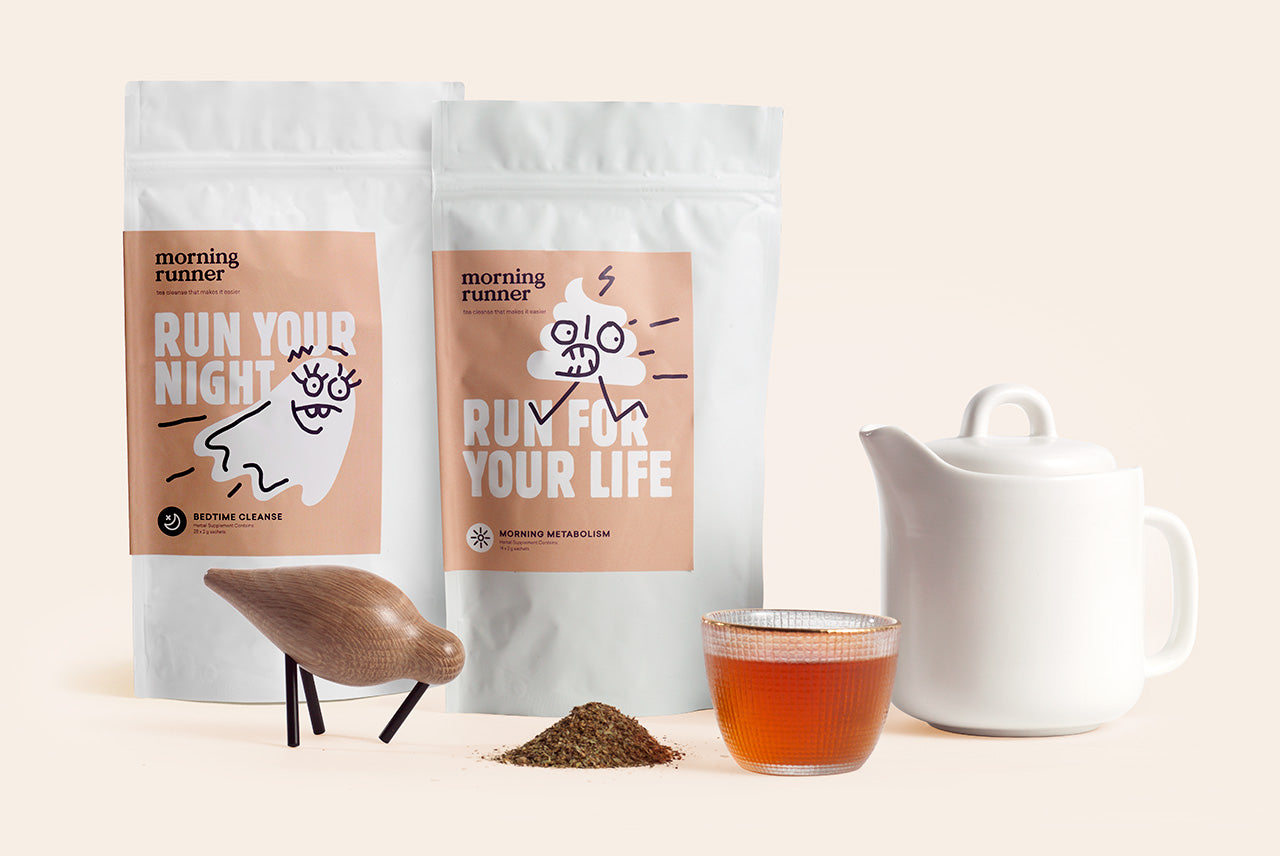 Some good tips
Traditional Way
Classy af
Icetea on a hot day
Ice Ice Baby
With lemon
Heavenly lady
With cinnamon
Exotic
Share this shit!
Step aside coffee! This is a job for Morning Runner!
Share affair!
Frequently Asked Questions
I'm pregnant and/or breastfeeding. Is it okay to use Morning Runner products?
Our ingredients are safe for consumption but if you have a bun in the oven…. We are sorry but cleansing your body might have a bad effect on your baby's development. Forget about cleaning for now and come back when you can have a proper drink. ;)
How long does shipping take?
We process and ship all orders on weekdays within 24 hours. From there it comes down to where you live. Usually it takes up to 72 hours. You can check the delivery status on your order using the DHL tracking number we emailed you.
Oh no... I supplied the wrong address. Can I fix this?
No worries. Our partner, DHL, allows us to change a delivery address up until the day of delivery.
Reply to your order confirmation email and change the subject line to 'ADDRESS CHANGE: #' followed by your order number, i.e. 'ADDRESS CHANGE: #yourordernumber'. Write your correct address in the email and send.
see all FAQs